http://www.janes.com/article/66304/diehl-develops-air-to-surface-capability-for-iris-t-aam
!Le dan capacidad aire-tierra a los misiles aire-aire!:
A RNoAF F-16AM prepares to fire an air-to-surface variant of the Diehl BGT Defence IRIS-T AAM over Norway in September 2016. Source: Diehl BGT Defence
Key Points


Upgraded software insertion is the only requirement for the IRIS-T air-to-surface solution


No further air-to-surface trials currently planned with F-16 or other platforms


The Royal Norwegian Air Force (RNoAF) has tested a new air-to-surface capability developed by Diehl BGT Defence for the IRIS-T short-range air-to-air missile (AAM).
A proof of concept test firing to acquire, track, and engage a target representing a small fast attack boat was conducted in Norway in September 2016, where the IRIS-T missile was launched from an RNoAF F-16AM multirole aircraft.
The IRIS-T AAM was developed through a six-nation industrial consortium, led by Diehl BGT Defence of Germany. Series delivery of the missile to the programme nations - Germany Greece, Italy, Norway, Sweden, and Spain - started in December 2005. Since then, Austria, South Africa, Saudi Arabia, and Thailand have also acquired the IRIS-T AAM. The missile is cleared for carriage with the AMX International AMX, Boeing F/A-18, Eurofighter Typhoon, Lockheed Martin F-16 Fighting Falcon, Panavia Tornado, and Saab JAS 39 Gripen.
Conceived as a replacement for the legacy AIM-9 Sidewinder variants, the IRIS-T AAM is an agile short-range, all aspect imaging infrared (IIR) homing missile powered by a Nammo solid propellant motor. Similar in size and centre of gravity to the AIM-9L/M Sidewinder, IRIS-T is some 2.94 m in length, 127 mm in diameter, with a flight control surfaces span (wing) of 350 mm, and a total weight of 89 kg. Equipped with an 11.4 kg high-explosive (HE) (fragmentation) warhead fitted with a radar-assisted proximity fuze, the missile features with lock-on before launch (LOBL) and lock-on after launch (LOAL) capabilities for target engagement at ranges out to 13.5 n miles (25 km).
For the air-to-surface role, the missile retains the same standard IRIS-T AAM hardware configuration, including the HE warhead and IIR guidance package, with only an updated software insertion required to deliver the additional ground attack capability, a company spokesperson told IHS Jane's .
http://www.janes.com/article/66304/diehl-develops-air-to-surface-capability-for-iris-t-aam

nick7777

Admin




Mensajes

: 6568


Fecha de inscripción

: 27/03/2016



Air Defence Capability for the Army 
(Source: Norway Ministry of Defence; issued Feb 06, 2017)
(Issued in Norwegian; unofficial translation by Defense-Aerospace.com)
Norway is beefing up its army's air-defense capabilities, and yesterday announced it was procuring a new, mobile version of the Kongsberg NASAMS air-defense system already widely operated by its air force. (Norway Defence photo)
The army's ability to defend military units from attack from the air will be increased by the procurement of a new, mobile air defense system. 
"Providing protection from air attacks must be modular and flexible, and it should move quickly. It will provide protection against threats from the air so that the Army can benefit from maximum operational freedom. The army has not had a combat air defense capability since the early 2000s, and this is a milestone in our continuing commitment to the Army," says Defence Minister Ine Eriksen Søreide. 
The Ministry of Defence (MoD) has recently sent a team to the FMA defence materiel agency to begin the procurement process of a new weapons system through investment Project 7628 Kampluftvern. This project is important for the continuing modernization of the Army. 
Project 7628 is a weapon system that will consist of both new acquisitions and the reuse of existing equipment and solutions from the Air Force's own NASAMS air defense system. 
The new acquisitions are primarily a short-range capacity to be integrated in the Army modernized armored transport vehicles. These systems will be integrated with fire-control and communication solutions that are in use in the Air Force. 
Kongsberg Defence & Aerospace AS (KDA), which provides NASAMS to the Air Force, will also be a system supplier and overall integrator of combat air defense for the Army. The acquisition therefore carried out as a direct acquisition by a direct arrangement with KDA. 
The budget for the project is NOK 948 million and deliveries will take place from 2018 to 2021. 
(ends) 
Norway Acquires Army Mobile Ground Based Air Defence
(Source: Kongsberg; issued Feb 06, 2017)
During a press meeting today, defence minister Ine Eriksen Søreide announced the decision to conduct the project for providing the Army a Mobile Ground Based Air Defence System in a direct acquisition with Kongsberg. 
The Norwegian Defence Materiel Agency will initiate the acquisition process with Kongsberg to define the final configuration and system solution before the delivery contract is signed. The deliveries are planned for 2018 to 2021. 
Army Ground Based Air Defence is a highly mobile, short-range air defence system based on some existing elements in today's structure in combination with the acquisition of some new elements. The system will reuse NASAMS command and control and its unique network solutions. 
Kongsberg has been a supplier of air defence solutions to the Norwegian armed forces through several decades, from canon and gun systems to today's modern NASAMS. NASAMS has also been the foundation for significant competence developments and spin-offs to other technology areas. The Army Mobile Ground Based Air Defence system will be a world leading solution with unique capabilities to combat modern airborne threats, as well as having the ability to integrate with networks with other sensors and weapons. 
"NASAMS is a very important product for Kongsberg and one of the most successful internationally. We are very pleased to be have been chosen as supplier for the Army Mobile Ground Based Air Defence. This will add further capabilities to the Norwegian air defence community, and secure jobs in Kongsberg and for a large number of subcontractors throughout Norway," says Eirik Lie, President of Kongsberg Defence Systems.

nick7777

Admin




Mensajes

: 6568


Fecha de inscripción

: 27/03/2016



Compatriotas una compañía noruega de alta tecnología ha desarrollado balas capaces de conservar su poder destructivo al ser disparadas desde dentro y fuera del agua. Las municiones fueron bautizadas como 'CAV-X' por la firma DSG Technology. Las CAV-X tienen un rango efectivo de hasta 2.200 metros por el aire y 60 metros bajo el agua en su calibre más alto, de acuerdo con la compañía noruega. Su alcance a través de ambos medios permite que blancos como helicópteros sean alcanzados desde profundidades a las que navegan los submarinos.
Las capacidades de estas municiones se deben a un fenómeno hidrodinámico denominado supercavitación: si la bala logra desplazarse a través del agua a una velocidad suficientemente alta, la presión disminuye drásticamente hasta evaporar el líquido a su alrededor. Esto se crea una burbuja que minimiza la fricción alrededor de estas balas, y por consiguiente maximiza su alcance. A pesar de que las armas de fuego subacuáticas existen desde hace décadas, como por ejemplo las del fusil automático ruso ADS, la firma noruega espera que su producto sea de interés debido a que puede dispararse desde armas convencionales sin la necesidad de utilizar fusiles especializados. "Muchos países lo están probando", aseguró Kristian Aksnes, director de las Fuerzas de Operaciones Especiales de DSG. "Y esperamos que regresen y compren más", comentó, según informa Military.com.
Terror subacuático: desarrollan una nueva bala que es letal dentro y fuera del agua (VIDEO)
14 abr 2017 21:37 GMT

Una compañía noruega ha fabricado municiones con supercavitación que pueden ser disparadas desde un submarino y alcanzar helicópteros.
Revolutionary Technology Allows for UNDERWATER SHOOTING
https://www.youtube.com/watch?v=3I1cDGgXbSE
https://actualidad.rt.com/actualidad/235913-terror-subacuatico-bala-letal-agua

Chaco

Admin




Mensajes

: 13341


Fecha de inscripción

: 27/03/2016


Localización

: Ciudad Mariana



South Korean group Hanwha has confirmed an export order from Norway to supply its K9 Thunder 155 mm/52-calibre self-propelled tracked howitzer under a contract worth KRW245.2 billion (USD227 million).
Hanwha said in a statement on 21 December that the contract, signed a day earlier in Oslo, featured the delivery of 24 K9 systems and six K10 ammunition resupply vehicles by 2020. The contract also includes logistics support, which will be provided by a newly established technical workshop in Norway.
Hanwha attributed the contract to the South Korean government's strategy to support domestic defence firms in international markets. Hanwha said the deal represented its third K9 export order in 2017, with the total value of these contracts reaching about USD720 million.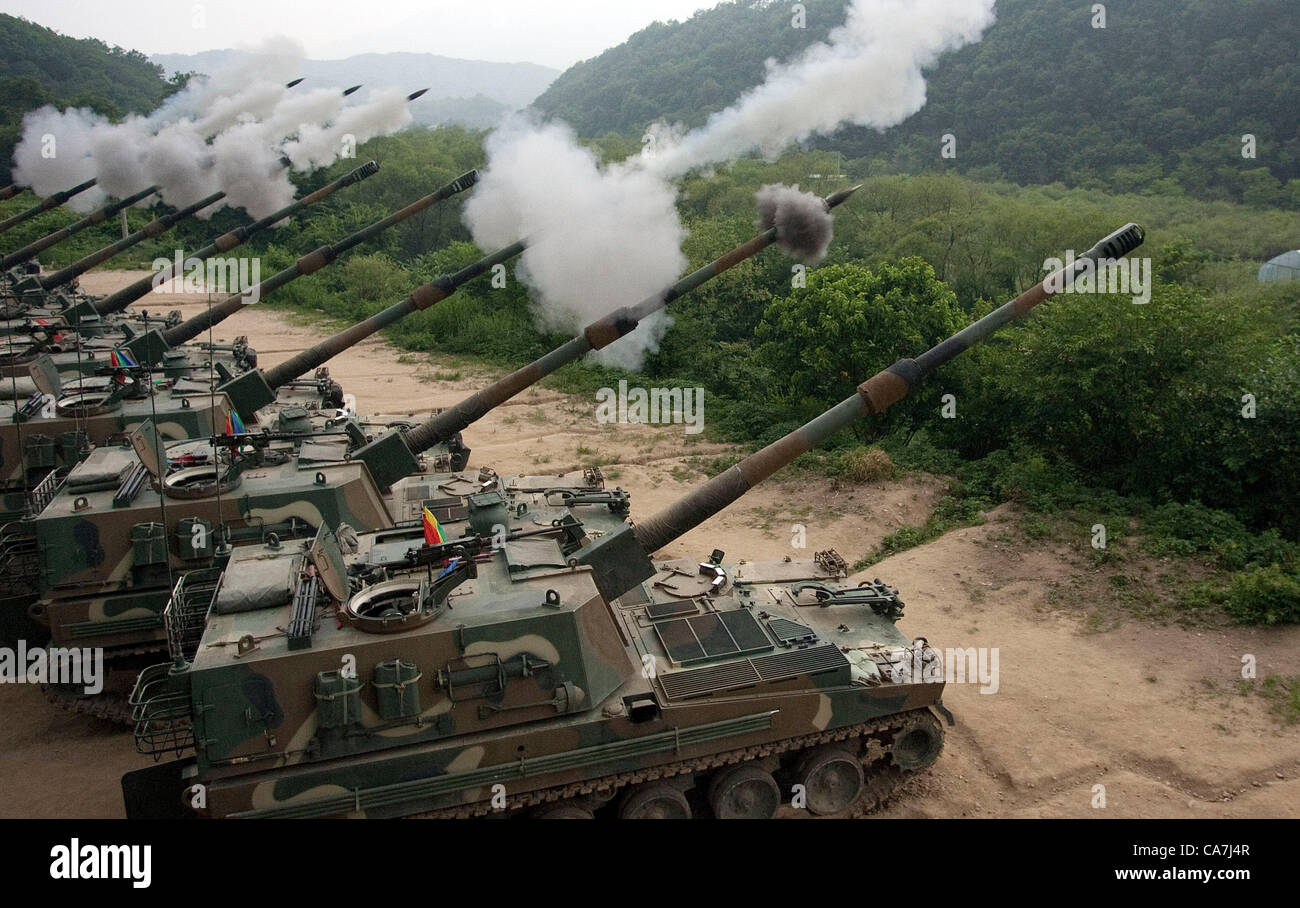 http://www.janes.com/article/76637/hanwha-confirms-k9-export-to-norway

nick7777

Admin




Mensajes

: 6568


Fecha de inscripción

: 27/03/2016




Chaco

Admin




Mensajes

: 13341


Fecha de inscripción

: 27/03/2016


Localización

: Ciudad Mariana




Chaco

Admin




Mensajes

: 13341


Fecha de inscripción

: 27/03/2016


Localización

: Ciudad Mariana




---
Permisos de este foro:
No puedes
responder a temas en este foro.