Hilo de las fuerzas armadas italianas.

nick7777

Admin




Mensajes

: 4634


Fecha de inscripción

: 27/03/2016



http://www.janes.com/article/61417/eurosatory-2016-iveco-launches-centauro-ii-tank-destroyer
CIO unveiled its new Centauro II 8x8 tank destroyer armed with a 120 mm main gun at Eurosatory 2016 in Paris.
The new vehicle has been designed for the Italian Army, which is planning to buy 136 examples to equip nine cavalry units.
Speaking at Eurosatory on 14 June, Roberto Cortesi, the president of CIO, said that the new vehicle offered improved mobility, improved protection, networking and firepower over its predecessor, the 30-year-old Centauro.
Centauro II is designed for aggressive reconnaissance in force, with its mobility allowing it to rapidly deploy/evade, and its firepower allowing for the engagement of any enemy at maximum ranges.
The CIO consortium comprises IVECO and Oto Melara (now Leonardo), which has built more than 1,700 armoured vehicles for the Italian Army, including all its heavy- and medium-weight armour.
The Centauro II has been designed to fit Italian Army requirements for a vehicle of no more than 30 tonnes gross vehicle weight (GVW), a power-to-weight ratio of 24 hp/tonne (compared with 17 for its predecessor), a maximum road speed of more than 100 km/h, a range of 800 km, and higher ballistic protection that its predecessor.
Centauro II is armed with a 120 mm/45 calibre gun fitted with a semi-automatic loading system, a coaxial 7.62x51 mm machine gun and a Hitrole L remote weapon station (armed with anything from a 7.62 mm machine gun to a 40 mm automatic grenade launcher). The main gun offers a step-change in performance over the previous Centauro, which was armed with a 105/52 main gun, and is able to fire any NATO-qualified 120 mm smoothbore ammunition, including programmable rounds. The new gun has greater range, accuracy, and firepower than its predecessor. The Centauro II's new turret offers a fire-on-the-move capability, something not offered by the original Centauro. The 120/45 gun is an evolution of the 120/44 gun from the Ariete main battle tank, but has been optimised for low recoil, including the installation of a pepperpot muzzlebreak and other features that reduce the recoil force from 45 tonnes in the Ariete to 25 tonnes in the Centauro II.

nick7777

Admin




Mensajes

: 4634


Fecha de inscripción

: 27/03/2016



Iveco-Oto Melara consortium is set to present 3 types of 8x8 Centauro II based vehicles and sub-variants. 
The first is the tank-destroyer variant armed with either a 105mm or 120mm gun. The Centauro II is said to be the first wheeled vehicle in the world to have a high-pressure gun. For those not well informed, a high pressure gun has the same capabilities as that of an MBTs. This would put the Centauro II a league ahead of any other tank destroyer, as others use low pressure guns that lack penetration capabilities.
The Centauro II gives the user to choose between a 105mm L52 and a 120mm L45 gun. Both compliant with NATO standards and provide excellent firepower.
Protection has also increased, and the Centauro II is expected to handle the latest generation medium caliber kinetic projectiles and IEDs.
Iveco-Oto Melara have also made 2 more variants: An AIFV armed with a state of the art 30mm cannon in a HITFIST turret. It carries up to 8 fully equipped soldiers, and employs innovative technologies that greatly contribute to its excellent mobility.
Another is a mortar carrier. The 120mm rifled mortar is equipped with a semi-automatic loader to increase firepower and ease handling of the system.
http://defence-blog.com/army/iveco-o...tory-2016.html
http://defence-blog.com/army/iveco-o...satory-16.html
http://defence-blog.com/army/iveco-o...urosatory.html

nick7777

Admin




Mensajes

: 4634


Fecha de inscripción

: 27/03/2016



ROME*—*Italy's new tank, the Centauro II, was shown off at a military test range Wednesday, as the country's Parliament continued to decide whether to fund the vehicle. 
Deputy Chief of the Defence Staff Lt. Gen. Danilo Errico and Leonardo CEO Mauro Moretti were among guests who gathered Oct. 19 at the Cecchignola Army range on the fringes of Rome to watch a prototype of the wheeled tank being put through its paces. 
The Army hopes to buy 150 of the vehicles, which is built by a joint venture between Leonardo and Italian truck-maker Iveco. 
Managers and generals watched as the vehicles tackled steep climbs and plunged into ditches. 
With a 120mm cannon, digital communications and a 720 horsepower engine, the new Centauro II is bigger, more powerful and better wired than its predecessor, the Centauro, which it will replace. 
Speaking at the event, Army procurement chief Lt. Gen. Francesco Castrataro said the lightweight tank was a perfect fit as the service creates medium brigades based around the Centauro's stablemate, the new Freccia armored troop carrier. 
"The new Centauro is a tank destroyer which protects troops, rather than a tank, which would be weigh[ed] in at double the maximum 30 ton weight of a Centauro," he said. 
"It is essential to combine the new Centauro with the Freccia, which is a troop transporter. It is agile, flexible and can do more than 100 [kilometers per hour] on a road," he added.*"This vehicle is cheaper, lighter and more flexible than a tank, with the same destructive power as a tank." 
The eight wheels of the new Centauro extend further out from the hull of the vehicle than its predecessor to give it greater stability. 
"The second reason is that any mines triggered by the pressure of the tire will detonate further from the hull," an according to an official from the joint venture building the tank. 
Castrataro said the old Centauro lacked the digital capabilities to work alongside the Freccia, which was introduced in 2009. 
"We need both the Freccia, with its 25mm gun, and the Centauro, with its 120mm gun, working together on the battlefield. The new model allows this," he said. 
Designed to function in temperatures ranging from minus 32 to 49 centigrade, the Centauro II engine provides 24 horsepower per ton compared to 19 for the old Centauro. 
Extra protection is added following three years of testing on ballistic, ceramics and composites, while seven cameras are mounted on the hull. 
Italian lawmakers are debating approval for a €530 million (US $582 million) order for a first tranche of 11 pre-series Centauro II tanks and 39 production vehicles, along with 10 years of logistics service. 
Castrataro said that if 200 export orders followed, the Italian Ministry of Defence would recoup its*€46.8 million investment in the program thanks to royalties. 
Italy has in the past launched ambitious multiyear procurement plans, only for annual budgets to take unforeseen dips, leaving the plans in disarray. 
To remedy this, three-year budget plans have been introduced, but they have proven hard to stick down as funding falls short. 
This year, launch-funding for the Centauro II stood at only*€9.4 million, putting the onus on planners to find the cash to reach the*€530 million needed in coming years. 
Funding for a second planned brigade of Freccia vehicles is already falling behind. 
In January, Errico optimistically said he was pushing for spending plans spanning 18 years for the Army. 
Following an official documents submitted to the Italian parliament, which have been seen by Defense News. Italian army could purchase a first batch of 50 Centauro 2, 120mm 8x8 MGS (mobile gun system) and four A-129 Mangusta helicopters.
The 530€ million contract for the Centauro 2 is expected to be concluded by 2023. 
Currently, the Italian armed forces have a total of 359 Centauro 1, 8x8 anti-tank wheeled armoured vehicle. Main armament of the Centauro 1 consists of one Oto Melara-designed 105 mm 52 calibre rifled gun with a long recoil system that fires standard NATO tank ammunition as used in the L7 and M68 guns, including APFSDS.
The Centauro 2 MGS (Main Gun System) 120 mm/105 mm is a modernized version of the Centauro 1 8x8 anti-tank wheeled armoured vehicle. The Centauro 2 was presented for the first time to the public during the defense exhibition Eurosatory in June 2016.
The main armament of the Centauro 2 MGS consists of one third generation 120/45 mm gun (optional 105/52mm interchangeable to 120 mm), with integrated and stabilised low-recoil muzzle brake, provides the same fire power as most modern main battle tanks, with the capability of firing all latest generation 120 mm NATO APFSDS and multi-role MP munitions. 
At Eurosatory 2016, the Centauro was also fitted with a remote-operated HITROLE Light turret armed with a 12.7mm heavy machine gun with the possibility of using 7.62 or 40 mm automatic grenade launcher, integrated with the firing system, allowing the loader to undertake battlefield surveillance from a protected position. 
The hull and turret of the Centauro 2 are of all-welded steel armour construction. The ballistic armour, protection levels are significantly higher than the previous generation of Centauro 1 vehicle, with a completely rearranged hull chassis and turret design, integrated add-on ballistics and technical solutions, tested to the AEP 55 standard, capable of handling threats such as mines, IEDs and the latest-generation kinetic munitions.

nick7777

Admin




Mensajes

: 4634


Fecha de inscripción

: 27/03/2016



Compatriotas el complejo de producción militar italiano FACO ha presentado este viernes el primer caza F-35B montado fuera de Estados Unidos. El avión de combate, con nombre en código BL-1, fue presentado en una instalación industrial en la ciudad de Cameri, en el norte de Italia, según un comunicado de la empresa estadounidense Lockheed Martin, creador de estos cazas. Se espera que el F-35B, una variante del F-35 que puede despegar en una pista corta y aterrizar verticalmente, realice su primer vuelo a finales del próximo mes de agosto. El avión será entregado al Ejército italiano en noviembre de 2017. Después de una serie de "vuelos de confianza", el caza será trasladado a la base naval de Patuxent River, en el Estado norteamericano de Maryland para que obtenga la certificación requerida y sea entrenada la tripulación, a principios de 2018.
Cameri, el único lugar de fabricación de F-35B fuera de EE.UU, planea producir 30 cazas F-35Bs para la Fuerza Aérea y Marina de Italia y 60 F-35As para la Fuerza Aérea italiana, así como 29 F-35As para la Real Fuerza Aérea de Países Bajos. Los F-35 los construye EE.UU. en cooperación con varios países, entre ellos Italia. Se cree que es el avión de guerra más costoso jamás diseñado. El controvertido caza de Lockheed Martin ha sido objeto de muchas críticas en relación a su sobrecoste y a problemas de rendimiento.
FOTOS: Italia presenta el primer caza de aterrizaje vertical F-35B de fabricación nacional
6 may 2017 18:14 GMT

Tras realizar una serie de vuelos, el caza será trasladado a una base naval en EE.UU. para obtener la certificación requerida y para que la tripulación sea someta a entrenamientos.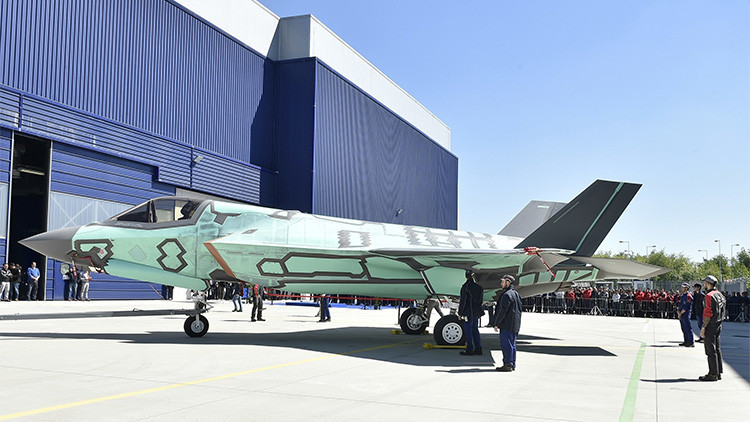 https://actualidad.rt.com/actualidad/237806-italia-primer-caza-f35b-fabricacion-nacional

Chaco

Admin




Mensajes

: 10738


Fecha de inscripción

: 27/03/2016


Localización

: Ciudad Mariana



Compatriotas l
a Marina italiana ha confirmado que uno de sus submarinos chocó con un barco comercial cerca de las costas de Calabria, en el sur de Italia. El incidente no ha dejado heridos. La noche de martes a miércoles el Scire, un submarino U212 de 55 metros, navegaba para participar en un ejercicio de entrenamiento cuando chocó con un carguero en el golfo de Squillace, en el mar Jónico. El barco de carga no resultó afectado y prosiguió su marcha, mientras que la tripulación del Scire se vio obligada a regresar a la base. Aunque el incidente no dejó heridos, la Marina italiana ha iniciado una investigación de lo sucedido. El Shire fue construido por la empresa alemana HDW y se incorporó en 2007 en la Marina italiana. Recibió su nombre en honor a un submarino italiano de la Segunda Guerra Mundial que se hundió cerca de las costas de Haifa (ahora en territorio israelí) tras un ataque de un buque británico en 1942.
Un submarino italiano choca con un barco de carga cerca de las costas de Italia
11 may 2017 17:51 GMT
El incidente se produjo cuando el submarino estaba navegando hacia un sitio de entrenamiento.
https://actualidad.rt.com/actualidad/238215-submarino-italiano-chocar-barco-cargo-costas-italia

Chaco

Admin




Mensajes

: 10738


Fecha de inscripción

: 27/03/2016


Localización

: Ciudad Mariana



Compatriotas
informan medios locales, un piloto de caza ha fallecido al estrellarse su aparato en el mar cerca de la costa de Terracina (Italia). El capitán Gabriele Orlandi, del Departamento Experimental de la Fuerza Aérea de Italia, participaba en un espectáculo aéreo con su avión, un caza Eurofighter Typhoon, cuando ocurrió el accidente. El espectáculo aéreo era contemplado por miles de personas desde la costa italiana, incluidos los padres y la mujer del piloto, que al ver cómo el aparato caía en el mar se desmayó y tuvo que ser hospitalizada. El evento fue inmediatamente interrumpido.
En un video aparecido en las redes se aprecia el momento exacto en que el avión choca contra la superficie del mar cuando realizaba un viraje. Los equipos de emergencia recuperaron en el mar el cuerpo sin vida del piloto. Las causas del accidente están siendo investigadas. El subsecretario de Defensa, Gioacchino Alfano, ha expresado su pésame y condolencias a los familiares del piloto fallecido en una nota del ministerio, en la que lamenta que "un día de alegría se convirtió en un día de pena".
Muere un piloto en Italia al estrellarse su caza (VIDEO)
En un video aparecido en las redes se aprecia el momento exacto en que el avión choca contra la superficie del mar cuando realizaba un viraje.
Momento exacto del fatal accidente de un caza durante una exhibición aérea

Chaco

Admin




Mensajes

: 10738


Fecha de inscripción

: 27/03/2016


Localización

: Ciudad Mariana




---
Permisos de este foro:
No puedes
responder a temas en este foro.