Hilo de las fuerzas armadas tailandesas

nick7777

Admin




Mensajes

: 6570


Fecha de inscripción

: 27/03/2016



Thailand Royal Army show off DTI-1G MLRS, Thailand version of WS-1 MLRS
Source: 
http://defence.pk/threads/chinese-made-weapons-exports-to-foreign-countries.273332/page-30#ixzz44v062ZvG

nick7777

Admin




Mensajes

: 6570


Fecha de inscripción

: 27/03/2016



http://www.reuters.com/article/us-thailand-china-idUSKCN0ZH4V4
WORLD NEWS 

|

 

Fri Jul 1, 2016 8:42am EDT


[size=40]Junta-ruled Thailand says it will buy three Chinese submarines
Military-ruled Thailand will buy three submarines worth around $1 billion from China, the defense minister said on Friday, a move that signals warming ties with the regional superpower as relations with the United States cool.
Thailand's army seized power in a May 2014 coup following months of street protests, toppling the remnants of the civilian government led by Yingluck Shinawatra.
Since then, the military government has sought to improve ties with China which has stepped into the vacuum left by Western governments that have kept the junta at arms length and called for a rapid return to democratic government.
That has come as Beijing and Washington jostle for power and influence in Southeast Asia, where China's disputed maritime claims in the South China Sea have has caused tension in recent years.
The purchase of 36 billion baht ($1.03 billion) worth of Chinese-made submarines next year was confirmed on Friday by Deputy Prime Minister and Defense Minister Prawit Wongsuwan, after the navy put the plan to the cabinet.
Thailand has never had submarines and has tried, since the 1990s, to sign deals with several countries, including South Korea and Germany.
Thailand put the deal with China on hold a year ago to review the cost and capabilities of the vessels.
Warming ties with China have seen the two countries work toward a massive rail project and holding joint air force exercises.
Thailand's defense spending is set to rise to around 214 billion baht ($6.10 billion) in 2017, up 16.6 percent from 2014.
(Reporting by Patpicha Tanakasempipat; Editing by Simon Webb and Nick Macfie)
[/size]

nick7777

Admin




Mensajes

: 6570


Fecha de inscripción

: 27/03/2016



http://news.xinhuanet.com/english/2016-07/01/c_135482012.htm
Thai navy gains approval to buy three Chinese-built, Yuan-class submarines
| | | |
| --- | --- | --- |
| |   | Source: Xinhua | 2016-07-01 18:00:01 | Editor: huaxia |
BANGKOK, July 1 (Xinhua) -- Thai Deputy Premier Prawit Wongsuwan confirmed on Friday that Thailand will buy three Chinese-built submarines for a combined price of one billion U.S. dollars.
The Thai navy's proposal to procure the three Yuan-class S26T subs from China has been put on hold since last year by the deputy premier who is concurrently defense minister.
Now that Gen Prawit has given his nod, the navy will use its fiscal 2017 budget amounting to some 333 million U.S. dollars to buy the first Chinese sub next year with the two others to follow over the next few years.
The deputy premier said the navy will only pay for the Chinese subs on instalment basis which will span a ten-year's time from next year.
The Yuan-class S26T sub is a derivative, export version of the Yuan-class 039A sub deployed by the Chinese navy and is fitted with an air-independent propulsion as an auxiliary system to a regular diesel-electric power.

nick7777

Admin




Mensajes

: 6570


Fecha de inscripción

: 27/03/2016






Se estrelló un gripen ,murió el piloto...

nick7777

Admin




Mensajes

: 6570


Fecha de inscripción

: 27/03/2016




_________________
rastrear detectar y destruir infante listo¡¡¡¡¡
https://thaimilitaryandasianregion.wordpress.com/2017/03/24/royal-thai-army-buys-zbl-09-8x8-ifv/
Royal Thai Army buys ZBL-09/VN-1 8×8 IFV
Leave a reply
[size=18]RTA ordered ZBL-09 from NORICO to be commissioned in the cavalry unit.
Foreign correspondent said to TAF in LIMA 2017 yesterday that the Royal Thai Army signed the order to buy 34 ZBL-09 8×8 and 12,506 30 mm round from China's NORICO.
ZBL-09 can be compared to BTR-3E1 earlier procured and deployed in the infantry units. RTA will buy one battalion of ZBL-09 and aim for 2020 delivery at the price of 1.695 mil USD each. TAF believe that this order is a part of the 400 million Baht project to upgrade the RTA maintenance factory to be able to maintain and refurbish all Chinese-made vehicle in RTA, including VT-4 tank, Type-85 and ZBL-09. Thy aim to become the regional center for Chinese vehicle maintenance.
[/size]

nick7777

Admin




Mensajes

: 6570


Fecha de inscripción

: 27/03/2016



DTI-2,versión local del chino SR-4 MLRS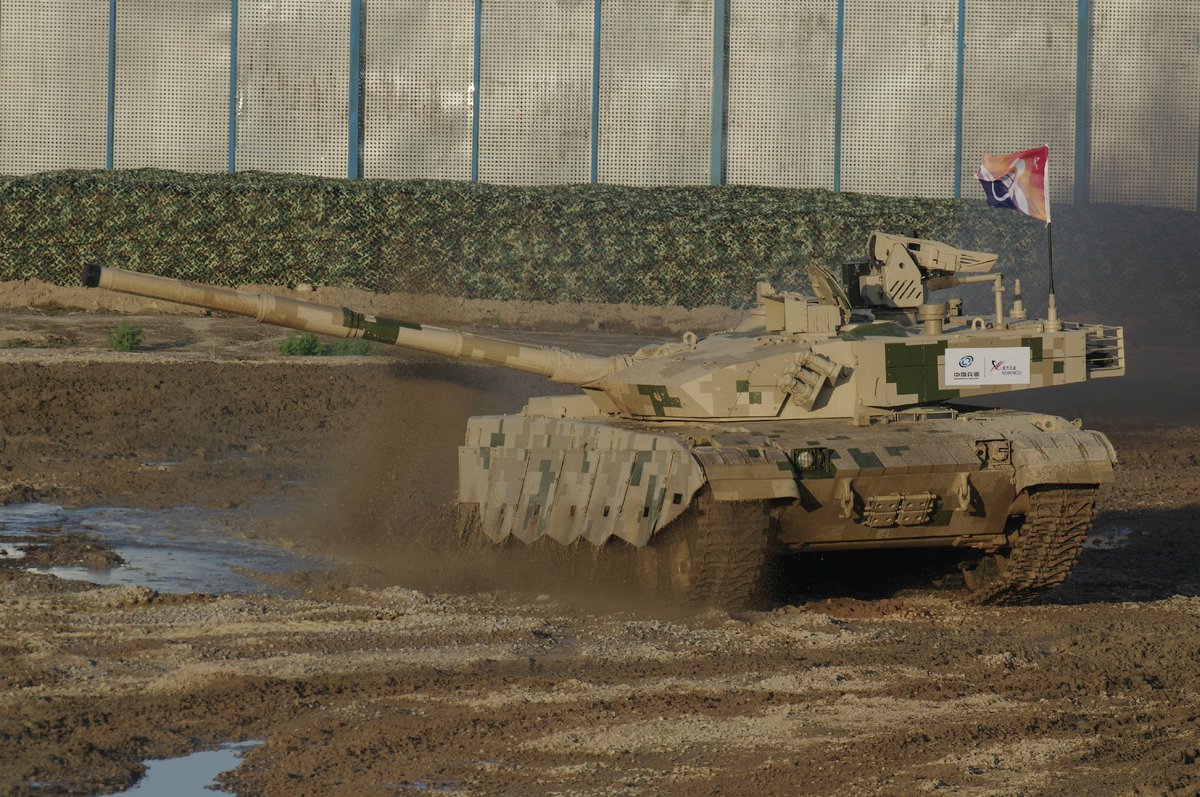 The Thai government recently approved US $ 58 million on Tuesday for the additional acquisition of ten Chinese 
VT-4
 tanks .
"These battle tanks will be used to replace the US M41s, which are both small and obsolete," says Sanserv Kaewkamnerd, spokesman for the Thai Cabinet.
This is a second batch of the VT-4 tank bought by Thailand, in addition to the 28 Chinese tanks of the same model ordered in 2016.
The Thai army signed a contract of 49 
T-84
 tanks with the Ukraine in 2011, but only about 20 were delivered. This situation forced the country to re-launch a new call for tenders afterwards.

nick7777

Admin




Mensajes

: 6570


Fecha de inscripción

: 27/03/2016



UNA ÚNICA BATERÍA DE misiles antiaéreos KS-1 ,es utilizada por la fuerza aérea tailandesa.

nick7777

Admin




Mensajes

: 6570


Fecha de inscripción

: 27/03/2016



MÁS DE LOS VT-4 TAILANDESES,ACÁ:
http://galaxiamilitar.es/tailandia-elogia-las-capacidades-de-los-nuevos-tanques-importados-de-china

nick7777

Admin




Mensajes

: 6570


Fecha de inscripción

: 27/03/2016




---
Permisos de este foro:
No puedes
responder a temas en este foro.