Página 3 de 3. •

1, 2, 3

https://www.hispantv.com/noticias/defensa/382935/iran-tanques-militar-guardianes-karrar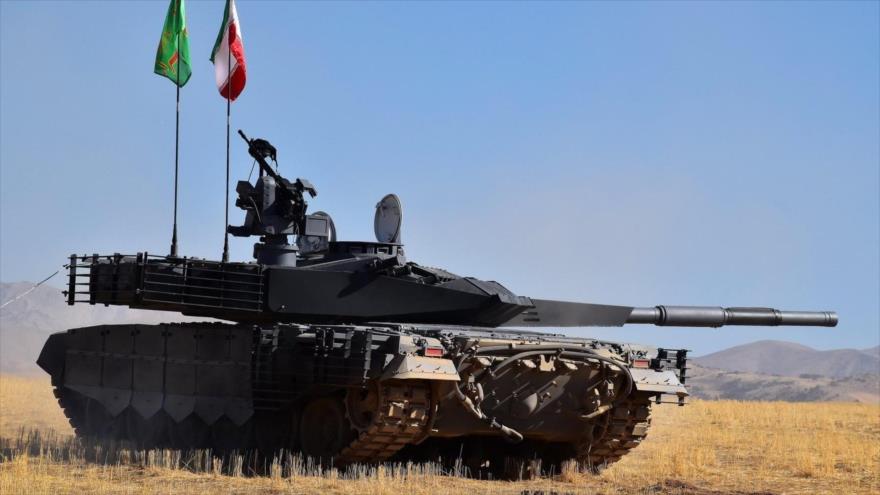 El Ministerio de Defensa de Irán tiene planeado actualizar y fabricar hasta 800 tanques como parte de los esfuerzos del país para aumentar su capacidad defensiva.
El viceministro de Defensa iraní, Reza Mozafarinia, ha anunciado que el Ejército y el Cuerpo de Guardianes de la Revolución Islámica (CGRI) recibirán entre 700 y 800 tanques de fabricación nacional, incluido el carro de combate Karrar (Atacante), sin precisar la fecha de entrega, según ha anunciado este miércoles la agencia estatal de noticias Tasnim.
Mozafarinia ha precisado que el país persa fabrica cada año entre 50 y 60 tanques, tal y como pide el Cuerpo de Guardianes.
Irán dio a conocer el tanque Karrar en marzo de 2017. Respecto a su capacidad, el exministro de Defensa Hosein Dehqan dijo que Karrar puede competir con "los tanques más avanzados del mundo a tres niveles: potencia, precisión y movilidad, así como en mantenimiento y durabilidad en el campo de batalla".
En los últimos años, Irán ha logrado amplios avances en el sector de la defensa, pese a las sanciones, y ha conseguido la autosuficiencia en la producción de equipos y sistemas militares esenciales para su sistema defensivo.
La República Islámica ha asegurado, en reiteradas ocasiones, que su doctrina defensiva se basa en la disuasión y su poderío militar no representa amenaza alguna para terceros países, en particular para sus vecinos.
Este mismo miércoles, el ministro de Defensa iraní, el general de brigada Amir Hatami, tras asegurar que el país persa se encuentra entre "los mejores del mundo en materia de defensa", ha advertido de que la República Islámica dará "una respuesta aplastante" a cualquier "invasor malintencionado" que se acerque al territorio nacional.
fdd/rha/fgh/rba

nick7777

Admin




Mensajes

: 6134


Fecha de inscripción

: 27/03/2016



Un nuevo misil aire-aire  iraní,parece una copia del AIM-54A phoenix
Se llama FAKOUR 90:
http://militarywatchmagazine.com/article/7030
Among other new military hardware revealed during Tehran's annual military parade in September 2013, Iran displayed a never before seen yet very familiar weapons system - the Fakour-90 air to air missile. The platform bore a strong resemblance to the American made AIM-54 Phoenix Missile, the longest range air to air missiles ever developed by a NATO country. Iran had in the 1970s acquired large numbers of the AIM-54, a missile designed specifically to be fired by the F-14 Tomcat air superiority fighter which Iran also operated in large numbers. As the Tomcat's only export customer, Iran was the only country other than the United States to ever operate the AIM-54. Exports of what was at the time the United States' most advanced fighter in service were severely restricted, much as exports of cutting edge technologies are today. The AIM-54 proved a critical asset to the Iranian Air Force during the Iran-Iraq War in the 1980s, and were a prized but limited asset due to the U.S. arms embargo imposed on country in the aftermath of the 1979 Iranian Revolution. Several Phoenix Missiles were nevertheless reserved for research and development, while others were reportedly sent to the Soviet Union for study.
Iran's fleet of U.S. made combat aircraft were expected by Western analysts to be out of service within a decade due to severe shortages of parts, and this particularly applied to the F-14 which was both extremely complex and parts for which were extremely scarce internationally due to the scarcity of foreign operators. Iran was not only able to develop a domestic military aviation industry to sustain and produce parts for its fighters, but it was also able to reverse engineer and modernize one of the most advanced long ranged missiles ever built. The Iranian variant of the AIM-54, the Fakour-90, boasts several improvements over the original platform including a superior guidance system, enhanced range and greater speed. The new guidance system is approximately 30% smaller, and based on the reduced weight of the more modern systems and potential for added propellants the missile's range can be estimated to have increased by approximately 15% relative to the original AIM-54, allowing it to hit targets at distances of 220km. A superior fuel grain composite could potentially increase this further. The Fakour's cone also hides a sophisticated Iranian built guidance system similar to that used on the Mersad surface to air missile, giving the platform seek on ECM and seek on radar capabilities.
Alongside the Fakour-90 missile, Iran also displayed its own indigenous passive phased array radar system made to detect both stealth aircraft and cruise missiles at long range - an excellent complement to the long range missile. These were very likely developed by reverse engineering and enhancing the F-14's formidable Hughes AN/APG-71 radar. Between them, the two platforms provide a significant and lethal capability to Iran's otherwise unremarkable aerial warfare capabilities.
The U.S. Navy retired its F-14 fighters and their Phoenix Missiles in 2006, and following the end of the Cold War and the refocusing towards counterinsurgency there appeared little need for such long range air to air platforms. The result was that the country all but abandoned heavy air to air missiles capable of performing an interceptor role at extreme ranges and failed to develop a replacement of the AIM-54 or a fighter capable of carrying them. Iran's development of the 220km range Fakour-90 based on the AIM-54 and continued focus on preparations for war with a near peer enemy air force, be it Israeli, Saudi Arabian or American, has led it to obtain the capability to engage all Western made aircraft well beyond range of retaliation with its F-14 fleet. The vast majority of U.S. made aircraft, including the F-18, F-15 and F-16, have a maximum strike range of 75km against enemy aircraft when using their AIM-120B missiles. Elite platforms such as the F-22 Raptor and Saudi Arabia's U.S. made F-15SA are capable of deploying AIM-120C missiles with a range of 105km, but the range of these platforms remain less than half those of the Iranian platform. Indeed, only the Russian made R-33 and R-37 fitted onto the MiG-31 Interceptors can compete with the range of the Phoenix, with ranges of 304km and 400km respectively – though China's PL-15 currently in late testing and making use of advanced ramjet engines is also set to range over 300km.
With the vast majority of modern U.S. made fighters operating with a strike range of just 75 km, the Iranian Air Force's small F-14 fleet will comfortably be able to engage them from a distance without risk of retaliation (image 3). Even if the U.S. inducts its AIM-120D, a 180km range missile under development for the F-22 Raptor and other elite fighters, it will still face a considerable disadvantage at range.
With vast majority of Iran's combat fleet made up of heavily dated Vietnam War era platforms such as the F-4 Phantom, the country's' small fleet of approximately 30 operations F-14s may well be its only platform capable of operating offensively its Middle Eastern adversaries. Flying safely over Iranian airspace, the Tomcats will be able to target and destroy hostile aircraft flying over Abu Dhabi, and at a stretch possibly over Riyadh if operating over the gulf waters. What is more should Iranian aircraft ever operate over Iraqi airspace, something which can hardly be ruled out based on the Arab state's heavily reliance on and extensive military cooperation with its larger neighbour, Iranian Tomcats would be able to target Israeli aircraft over Tel Aviv. Israel's F-15 fighters, with a retaliation range of just 75km, would be unable to respond without leaving their airspace.
With the Iranian Air Force's F-14 numbers approximately 30 fighters, it is overall hardly more capable than its adversaries across the Persian Gulf - particularly Israel and Saudi Arabia which field dozens of cutting edge F-15 air superiority fighters. The range of Iran's Fakour-90 missiles do however help to somewhat compensate for this numerical disadvantage. Only the U.S. F-22 Raptor, a small contingent of which are deployed to the United Arab Emirates, has a good chance of countering the Iranian Fakour-90's advantage by using its advanced stealth capabilities and high speed to close in on the Iranian fighters undetected and engage them within range of their AIM-120 missiles. Without such direct U.S. intervention however, Western allies in the Middle East will struggle to match the Iranian Air Force at range. This capability disadvantage despite a vast discrepancy in defence spending favouring U.S. allies indicates that it could be beneficial for them to develop their long-range air to air missiles indigenously, something neither Israel nor the Arabian Gulf States are currently capable of. With growing cooperation among U.S. allies in the region, a joint long range missile program to match the Fakour-90, combining the resources of the Gulf States and technical expertise of the Israelis, could be exactly what these parties need to restore their advantage in the air. 

nick7777

Admin




Mensajes

: 6134


Fecha de inscripción

: 27/03/2016



https://www.hispantv.com/noticias/defensa/204696/iran-misil-crucero-nasr-tomca
[size=18]
Irán equipa sus cazabombarderos F-14 con misiles de crucero Nasr
[t
/size]
La Fuerza aérea de la República Islámica de Irán (IRIAF) es el único usuario actual del legendario F-14 Tomcat.
La aeronave, que en principio había sido solicitada para interceptar a los MiG-25 soviéticos, pronto sería adaptada para el ataque a tierra, para tener un bombardero con mayor capacidad que sus F-4 Phanton, durante la guerra Irán - Irak, en los años 80.
A pesar de los años transcurridos y los intentos de Estados Unidos, por impedir su actualización, no solo el avión continúa operativo, sino que incluso se sigue modernizando.
Estas modernizaciones incluyen la actualización de su radar, mejoras en el sistema de navegación, el cableado interno además de incorporar distinto armamento, ya sea de origen USA, de Rusia o el diseñado en el propio Irán, como ser los misiles AIM-54 Phoenix, R-73E, AIM-7E Sparrow, AIM-9 Sidewinder, Hawk, etc.
El radar modernizado de fabricación iraní, se emplea en conjunción con el nuevo misil aire - aire Fakour 90, con alcance de 185 Km y velocidad Mach 5.
Una de las últimas novedades en armamento, es la que posibilita al F-14, para utilizar el misil Nasr aire - superficie.
Estos ejemplos, muestran que Irán ha podido sobrellevar el bloqueo imperial y además, logrando una industria floreciente que le permite la autonomía en materia defensiva.
Bombas bajo el fuselaje de un F-14

nick7777

Admin




Mensajes

: 6134


Fecha de inscripción

: 27/03/2016



https://www.hispantv.com/noticias/defensa/392948/radares-iran-amenaza-enemigos-misiles
Video: Irán estrena su avanzado radar tridimensional Basheer | HISPANTV
Las unidades de defensa aérea de Irán estrenaron por primera el radar tridimensional Basheer, que sirve para detectar aviones de combate.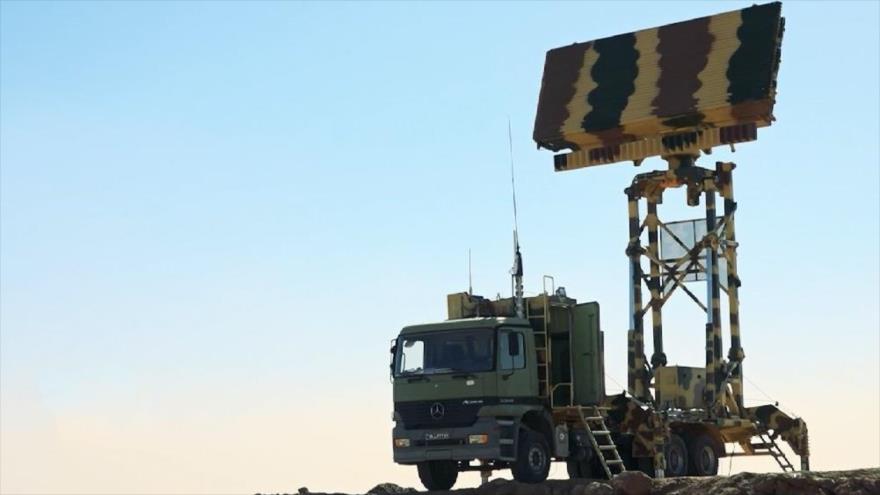 El alto poderío misilístico de la República Islámica de Irán ha cambiado los cálculos de los enemigos, declaró el miércoles un oficial iraní de alto rango.
"Hoy en día, en el campo misilístico, Irán goza de un alto y preciso poderío militar que ha obligado a los enemigos a cambiar sus cálculos", afirmó el subcomandante del Cuerpo de Guardianes de la Revolución Islámica (CGRI) de Irán, el general de brigada Hosein Salami.
El militar iraní hizo estas declaraciones en una conferencia realizada en la ciudad de Damqan, en la provincia de Semnan (centro-norte), en el marco de una ceremonia para conmemorar el aniversario del fallecimiento del Profeta del Islam, el Hazrat Mohamad (la paz sea con él), y el martirio de su nieto mayor, el Imam Hasan (P).
El poderío militar del país persa, sostuvo Salami, es tan amplio que puede neutralizar las amenazas de los enemigos en el mar y en el espacio. Asimismo, indicó que las Fuerzas Armadas poseen avanzados radares, con los que ha cerrado el cielo de Irán a los enemigos.

nick7777

Admin




Mensajes

: 6134


Fecha de inscripción

: 27/03/2016



Página 3 de 3. •

1, 2, 3

---
Permisos de este foro:
No puedes
responder a temas en este foro.